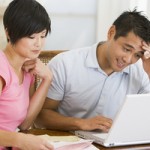 Credit is a good thing – if you ask the experts in the credit industry. Credit card companies begin luring in new customers with the promise that building a credit history will help their financial future. It may be beneficial to have some credit, but there comes a point when the amount of credit hurts more than it helps.
Consumers that have a large amount of credit available become a risk to potential lenders. It is important for you to know just how much credit is enough so you avoid reaching the point where you have too much credit.
Credit lines should not be more than 25% of the income that a household produces. If the credit expense is any higher, it may be time to start reducing the amount of available credit
Answer the following questions to discover if the amount of credit you are carrying today is too much credit.
If all of the balances were suddenly maxed out, would you be in a financial position to pay the credit off? If the answer is yes, then you are still in the safe zone for credit. If the answer is no, then you may want to reduce the amount of available credit by closing accounts.
Do you have a specific purpose for each of the credit lines? If the answer is yes, then you may be okay with the amount of credit you have available. Using one line for a business, one line for gas and one line for other expenses could be an easier way of keeping track of expenses. Be sure that each line is paid in full each month so that the credit limits do not become debt burdens.
Are you disciplined in your use of the credit lines? The more credit you have the more possibility there is of getting into a debt hole. It is important that you have the financial discipline to pay for things as you go and are not just using the credit that is there.
Have you reviewed your credit reports? Each reporting agency is required to provide you with one free copy per year. When companies feel that a person has too much available credit, they will reduce the credit rating to reflect that concern.
The more credit you have, the more possibility there is for debt problems in the future. Companies will review the available credit when considering new credit ventures or other business ventures. Some companies will consider a high credit amount as a positive, while others may see the potential for troubles.
Determining how much credit is too much credit is an individual decision. You must look at all of the different factors and find the balance that works best for your own needs. Answering a few questions will help you begin to determine the level of credit that will meet your needs without putting a dent in your credit rating in the future.
Tags: borrowing advice, credit line