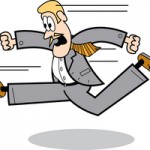 Even if you've done a great job in coming up with a solid budget and are sticking to it, there may still be times when you find yourself in a financial bind. Perhaps it's because of an unexpected expense that exceeds what you have in your emergency fund. Or perhaps it's simply something else for which you don't want to use your emergency savings.
In these cases, you may need to borrow money quickly. As you might expect, you'll end up paying more for a quick notice loan than you would for other types of borrowing.
But if you follow the steps below you'll stand a better chance of keeping these costs as low as possible.
Minimize the Amount You Need to Borrow. Before you do any actual borrowing, make sure you're only trying to borrow the absolute minimum amount. Depending on your situation you might not have any flexibility, but if you do then work to reduce the amount of your borrowing as low as you can.
Come Up With a Repayment Plan. It's a good idea to know how you're going to repay the money before you borrow it. You don't necessarily have to have a repayment plan that accounts for every last penny, but you should probably be as close to that as possible. Don't just tell yourself that you'll "figure it out later." Instead, try to know how you'll pay the money back before you go.
Don't Give Up Too Much. Instant loan shops and pawn shops are a very quick source of funds, but you have to give up something in return. A growing trend is for loans to be made with your automobile title as collateral. If possible you should avoid these types of loans. If something prevents you from fully repaying on time, you don't want to you're your automobile.
Consider Your Credit Card. Taking a cash advance against your credit card is one of the easiest methods for any small and virtually instant loan. Chances are your credit card company even allows you to withdraw money from a participating ATM network. The downside to this convenience is that the loans are generally rather expensive (though still probably less expensive and pawn shops or payday loan centers). You can expect to pay a flat fee plus a fee based on the amount of the loan. In addition, the interest rate on this amount will often be significantly higher than the rate on purchases you make with the card.
Avoid Borrowing From Your Retirement Accounts. Finally, you should avoid borrowing from your retirement accounts. Your 401(k) account through your employer may offer the option of borrowing against your 401(k) balance. The process of getting the loan is sometimes time consuming. Furthermore, even though the repayment terms are generally favorable if you leave your job or are laid off before repaying the loan, the entire balance of the loan will immediately come due.
Having to borrow money quickly is never an ideal situation. By doing a little planning beforehand you'll be able to minimize the damage that's done to your overall financial situation.
Tags: borrow money, borrowing advice, quick loan