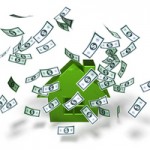 Buying a home is one of the most significant financial decisions you'll ever make in your life. In order to come up with a large enough down payment (and to cover the closing costs on the transaction), you'll have to get a good handle on your finances and map out a plan for saving up the amount you need.
But owning a home also requires you to organize your finances in order to pay for the maintenance and upkeep of your new house on an ongoing basis. Home ownership has an entirely different set of financial responsibilities as compared to renting.
When you're coming up with a new plan to organize your finances, make sure you take the following considerations into account.
Account for Taxes and Insurance. Be aware that when you own a house you'll be responsible for paying yearly property taxes as well as your homeowners' insurance premiums. While you're paying a mortgage these financial obligations will likely be coordinated by your mortgage lender, which will then add those costs to your monthly payments through an escrow process. (Once you have your mortgage paid off you'll have to pay your taxes and insurance premiums directly.) Because taxes and insurance premiums change over time, you'll need to make sure your budget addresses these amounts.
Plan For Maintenance Costs. When you own a home you'll be responsible for a number of maintenance expenses that you wouldn't otherwise be if you were merely renting. Just about everything required to maintain your yard and the exterior of your home will involve some cash cost (and perhaps even some time on your part). In addition, there will be little things on the inside – like air filters for your furnace – that won't be expensive individually but the cost of which will add up.
Create an Emergency Fund. Apart from the periodic maintenance costs in keeping your home well maintained, from time to time you may also need to pay for more expensive things. After a certain number of years, for example you'll need to replace your water heater, refrigerator and just about every other appliance in your home. (And unless you bought a home with all new appliances, you might need to replace them sooner than you think.) So be sure to have an adequate emergency fund set up.
Paying Down Your Mortgage Early. When you take out your mortgage you'll be on a repayment schedule. But there is nothing to prevent you from paying down your mortgage more quickly. There are some compelling reasons to do so. Even just a few additional payments that are put towards principal in a 30 year mortgage can, over the life of the loan, result in an interest savings equal to many times the amount of those payments. If possible you should organize your finances to allow for additional principal payments.
Ultimately, you'll need to organize your finances in whatever way best works for you. Once you've bought a house, the financial obligations of the mortgage – as well as all of the other expenses that go along with owning a home – will be a primary driver of how your budget looks.
Tags: borrowing advice, emergency fund, home purchase, Mortgage, organize finances