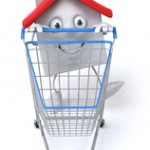 There's a good chance that you probably already know a little bit about the process of obtaining a mortgage loan to purchase a home. Perhaps you've even gone through it a few times yourself, so you know about what to expect with regard to down payments, fees and other closing costs.
But so-called "jumbo" mortgages are somewhat different. Jumbo mortgages are mortgages that exceed the maximum value set by Fannie Mae and Freddie Mac for so-called "conforming" loans. For homes in most parts of the United States, the current threshold is $417,000, although the number is higher in more expensive real estate markets.
If you want to obtain a jumbo mortgage for your new home, here's some advice and summary of what you can expect.
Fewer Lender Options. Not all mortgage lenders offer jumbo mortgages. In general, branches of large nationwide banks are more likely to offer jumbo mortgage options, so you might have to look a little harder when you're shopping for a jumbo mortgage.
Fewer Loan Options. With a traditional mortgage you'll have a variety of options with regard to the term of repayment and any adjustable interest rate options. But most lenders generally offer fewer options for jumbo mortgages. Whereas a bank might have six to ten options for traditional mortgages, they might only offer a 30 year fixed rate and a 5 year adjustable rate jumbo mortgage product.
Higher Interest Rates. Jumbo mortgages are generally considered by lenders to be riskier than conforming ones. (This is due in large part to the fact that it may take longer for the bank to resell a higher-priced residence in the event of a borrower default.) You might expect the prevailing interest rate for a jumbo mortgage to be somewhere between 0.5% and 1.5% higher than the rate for a corresponding traditional mortgage.
Down Payment Requirements. While the number of traditional mortgage loan products that allow for low or zero down payment have declined since the start of the financial process, it is still possible to obtain those loans. This won't be the case with a jumbo mortgage. With very few exceptions, you'll be required to make a 20% down payment (or more) in order to obtain a jumbo loan.
Income Verification. The income verification requirements for all mortgage products are much more stringent than they were just a few years ago, and this is particularly the case for jumbo mortgage applications. If you're in the market for a jumbo mortgage, expect to be faced with detailed paperwork that you'll need to complete in order to document your income.
Trying to get a mortgage in today's financial environment can be challenging, especially if you're in the market for a jumbo loan. Expect to spend more time shopping for a jumbo mortgage, and spending more time completing the additional paperwork. There will be fewer options available to you, but you should be able to find a suitable mortgage to fit your needs.
Tags: borrowing advice, jumbo mortgage, Mortgage