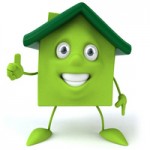 In years past, the getting a mortgage to buy a new home would involve going to your local bank and meeting with a loan officer who, chances are, you might have already known personally. Today, there are many other options for getting a home loan, and it's actually possible to apply for a mortgage online without ever having to visit a bank or meet with a loan officer.
Even though the mortgage application process can occur online, the structure of the transaction, and the documentation that you'll need to provide, is fairly similar to the traditional process. The differences arise primarily in where you look for the various mortgage options, and how the process goes forward.
Here is some borrowing advice about how to shop for a mortgage online.
Compare Rates and Fees. Perhaps the most important step in shopping for mortgages online is to identify and compare your various options. When you search online for mortgage options, you don't need to limit yourself to banks that are in your neighborhood, or even in your city or county. It's possible to secure a mortgage from a bank that's on the other side of the country, or even from a bank that only operates over the Internet and has no branch locations at all. You can make your search much easier by visiting a financial comparison website to compare a number of different financial institutions simultaneously. Just do a search for "mortgage rates" and you'll see many sites that compare mortgage rates.
Gather Your Financial Information. Regardless of which online bank or mortgage broker you file your application with, there are certain types of financial information that the institution will always require. Most importantly, you'll need to identify the amounts and sources of all your income. You must also identify all of your pre-existing debt. Make sure to include your credit card debt, student loans, auto loans and other indebtedness. Unlike just a few years ago, you'll eventually need to document and confirm the income you are claiming on your application, instead of simply declaring it.
Find the Property You're Interested In. You'll also need to identify the property that you're seeking the mortgage loan for. Because it's hard to predict how long it might take you to find a suitable property, and since the loan application can be completed rather quickly, it's usually best to find the property you want before you begin the application process.
Next Steps. If your application is approved, you'll then need to secure the additional documentation that will be necessary to finalize the mortgage and bring the home purchase to closing. This documentation generally includes obtaining an appraisal on the property, title insurance, and any flood certifications that may be required.
In general, shopping for a mortgage online can be somewhat easier that having to visit multiple locations of your local banks. But at the end of the day you'll still need a good credit rating to get the best terms, and you'll still need to carefully review all of the terms and fees for any loan you're seriously considering.
Tags: borrowing advice, mortgage advice, mortgage rates, online mortgage