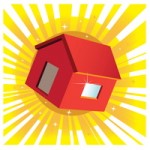 One of the first steps in buying a new home is to figure out your price range. Unless you know how much house you can afford, you won't know which homes to look at or consider. Because buying a home is such a large transaction, it's important to have the good idea of what's an appropriate price range for you.
Calculating home affordability takes into account a number of different factors relating to your personal finances. You'll need to consider not only your income, but also your other expenses and financial obligations. You also need to consider whether you will potentially receive a gift to help you with the down payment.
Here is some borrowing advice and guidance to help you determine how much house you can afford.
Total Debt-to-Income Ratio. The traditional wisdom is that a homebuyer's total debt-to-income ratio not exceed 36%. This means that once a borrower adds up all of their existing monthly debt obligations (including credit card payments, auto loan payments and student loans), then adds the total monthly payments for a new home, the total amount should be less than 36% of that individual's gross monthly income.
Housing Payment-to-Income Ratio. In addition, it's also customary that the monthly payment for a new home fall within (or somewhere below) the range of 28-33% of that individual's monthly income. Not only is having a low housing payment-to-income ratio important for affordability purposes, but the lower the ratio the more likely it is that the new homebuyer will be approved for a mortgage.
Prospective Loan Terms. Considering the debt-to-income and payment-to-income ratios above are only part of the equation. You must also decide how you're going to finance your home. Different home loan terms will lead to different monthly payments, and different overall levels of home affordability. To some extent the options that you'll have available will also depend on how much of a down payment you'll be able to make; the larger the down payment the better (and more affordable) loan terms you'll be able to secure, which means you'll be able to get a loan for a more expensive home.
Timing. If you're flexible, know that you might be able to afford more by delaying your purchase and improving your credit score. This will likely lead to a lower interest rate for your mortgage and the ability to get a larger loan at the same monthly payment.
Predictability. When you're considering how much home you can afford, remember that the calculations you make are based upon your current level of income and other expenses. These things are all subject to change, of course. What if your income goes down? What if your property taxes go up? Will you have to start paying college tuition for any of your children within the next few years? Make sure that there's some extra room in your budget to account for these contingencies.
Remember that the calculations discussed above simply help you determine how much you can afford at the high end. Don't automatically look to buy the most expensive home you can afford; if you find a home that works for you and your family at a lower price, don't be reluctant to consider it as an option.
Tags: afford home, borrowing advice, Credit Score, mortgage advice