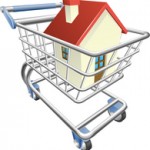 There are many different steps to getting a mortgage. Even after you find a lender you feel comfortable working with, you'll have to decide what type of mortgage product best fits your needs. The two most important aspects of your mortgage will be the term of your loan and its interest rate.
But interest rates on home mortgage products are always changing, and it can sometimes take several months or more from the time when you find the home and when you actually close on the transaction. Many borrowers find this degree of uncertainty to be unsatisfactory. If the rates are low when you first get approved for your mortgage, you can get a "rate lock-in" to fix that rate for your eventual closing.
Here is some information and advice on how mortgage rate lick-in works.
Rate Lock-in Basics. A rate lock-in is essentially a side contract between you and your mortgage lender, which "locks in" a particular interest rate for your loan for a specific period of time until closing. Rate lock-ins are generally offered for periods of 30, 45, 60 or 90 days, and you'll usually have to pay a fee for the lock-in privilege. The longer you lock in your rate the more protection you have, but you'll have to pay more for the privilege.
Rate Lock-in Timing. The earliest point at which a borrower can lock in a loan is after their loan application is approved. However, many borrowers wait until they have found a home to purchase, even if they've been pre-approved for a mortgage.
Pros and Cons. It's important to understand that a mortgage rate lock-in is a two way street. Not only does it obligate the bank to offer your mortgage at a specific interest rate (assuming your application is approved), but it also requires you take that rate for your mortgage (or forfeit the fee you've paid for the lock-in). If you want to be able to plan upon a certain interest rate for your loan so that you know exactly what the monthly payment will be, and are willing to forego the possibility of a lower payment if rates go down before closing, then a lock-in might be right for you. This might be the case particularly if your financial situation is such that the possibility of a higher rate (and a larger monthly payment) would mean that you can't afford the house.
A Rate Lock-in is Not Mandatory. Remember that you don't have to use a rate lock-in in connection with your mortgage. It can be valuable to a borrower who knows exactly what they can afford to pay each month on their mortgage, or who simply can't afford to go above a certain monthly payment. But other borrowers may simply wish to accept the prevailing rate at the time of closing.
Like other elements of the home buying process, there are different services and products offered by mortgage lenders to fit the various needs of its borrowers. One popular product is the interest rate lock-in, because it allows borrowers to plan ahead for the rates they'll receive and the monthly payments they'll be required to make.
Tags: borrowing advice, Mortgage, mortgage rate, mortgage rate lock-in